I felt the need to ask the honorable Steven Fizzingworth (I still don't know his real name, do you?) for permission to write this article as it discusses an #onbrand ethos that the Draft Doctors have championed for some time now. I'd go as far to say that they pioneered it and like most of their content, it's pretty straight forward: don't bother drafting a ruck until the later rounds, so as to maximise value in other positions with your earlier picks. After all, only 2 or 3 teams in your league get the truly dominant fantasy rucks, so punting a (typically) one-player position won't kill you most weeks.
Here are the guys that I believe fit the 'late-round-ruck' strategy in 2022.
SAM DRAPER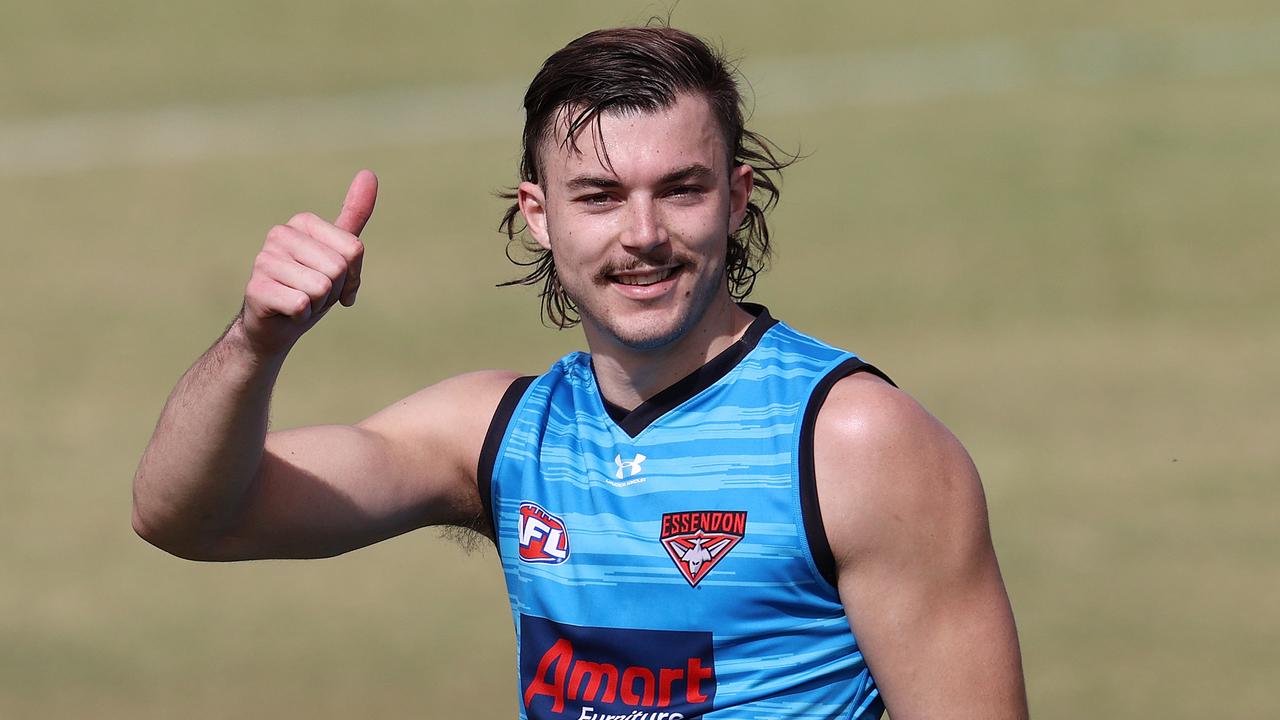 2021 AF/SC Avg: 57.3/72.8
2021 Games Played: 12
Predicted AF/SC Avg: 82/95
To any of my league-mates that read this, when it comes to the rucks, I'm calling 2022 Draper szn. Draper was, for the most part, fantasy irrelevant last season. His scoring didn't increase significantly and he only put together 12 games. In my eyes he is a true sleeper and here's why I'll target him:
He's coming into his third season (a typical breakout year) and is turning 24. There is a history of rucks showing noticeable improvement around this period of their career and I don't see why Draper can't start taking those next steps.
Drape will be the solo ruckmen in Essendon's best 22, with 2 Meter Peter pinch-hitting from the forward line when Drape needs a rest.
Injury woes have plagued Drape, but he didn't miss a game from rounds 14 – 23 last year and scored a whopping 121 AF/119 SC in the elimination final. A full preseason will do wonders for Drape's fantasy potential!
I like the look of the Bombers this year, and they play a fantasy friendly brand. Their glut of gun mids could make Drape an SC monster!
OSCAR MCINERNEY
2021 AF/SC Avg: 76.7/93.6
2021 Games Played: 21
Predicted AF/SC Avg: 85/100
Cam loves the Big O for 2022, and although my predictions aren't as bold as his, I still reckon the Lions' colossus is worthy of your R1 slot. He was a serviceable entity last season, and comes into 2022 as the 13th ranked ruckmen (on average AF score). Here's why I see the Big O being a top 5 -10 ruckmen this year:
Big O was a late bloomer, debuting in the AFL at age 24. He'll turn 28 this year, playing in his 5th year as an AFL ruckmen. With decent averages last year, and a 5th year in the AFL system to come, I believe there is still some upside in Oscar's scoring output.
He doesn't miss games. Over the last 3 seasons as a Lions best 22 player, he has only missed 4 games.
Brisbane are devoid of a noted secondary ruckmen. Sure, they recruited Darcy Fort to back up Big O, but there are questions over whether or not he will play. If Fort does play, it will most likely be as a forward who pinch-hits in the ruck due to Hipwood's absence. Once Hippy returns, Brisbane should revert to the Big O/Daniher ruck combo that they ran throughout most of the '21 season.
BRAYDEN PREUSS
2021 AF/SC Avg: N/A
2021 Games Played: 0
Predicted AF/SC Avg: 80/90
I'll be honest here; I think there is far too much oxygen given to the Preuss mythology. He's demonstrated a few flashes of scoring potential in his time and subsequently, chatter in fantasy circles have kept him more relevant than he has actually ever been. Here, we have a guy who has played 18 games in a 5 year career. He has scored 3 AF tons in that time… uhhh, Okay? Anyhow, he's worth watching if you deploy the late-round-ruck strategy this year and here's why:
He's the most developed of GWS's 3 ruckmen. If he has an uninterrupted preseason, I see a scenario where he plays first ruck and one of either Briggs or Flynn rotates from the forward line as both have shown capabilities as tall targets up front.
When given the role as primary ruck, Preuss has shown he can score. His score-build constitutes hitouts, marks, tackles and a decent amount of disposals for a ruck.
His injury history is one of diversity. He's been sidelined for extended periods due to an achilles, then a shoulder, then the other shoulder (or a pec or something. You get the point). We just need his fortune to turn around so he can shake this pesky 'Whitfield Syndrome' that seems to plague him.
TOM DE KONING
2021 AF/SC Avg: 60.5/59.8
2021 Games Played: 13
Predicted AF/SC Avg: 78/85
TDK enters his 5th season as a 22 year old ruckmen who hasn't had a smooth playing career up until this point. In fact, as of right now, he has a lingering shoulder issue, but the club says he should be fine for round 1. TDK has played only 22 games in 4 seasons, with his highest games played total coming last year (13 games) – not inspiring, I know. His 2021 preseason was disturbed by a back injury which meant he missed the first 9 games of the season, but upon returning, flashed some auspicious signs. I'll take a punt on TDK if the draft goes that way and here is my reasoning:
TDK missed rounds 1-9, then played every game after that. He played rounds 10-14 with Pittonet then supplanted him, playing out the rest of the season as Carlton's first ruck. This may be viewed as a sign of what the Blues plan to do with their ruck setup moving forward.
From his 8 games as Carlton's solo ruck, TDK scored over 75 on 4 occasions (78, 84, 90 & 91) – promising signs for a young ruckmen with development ahead of him.
He turns 23 this season and this has been a springboard age for young rucks in the past. Watch his physical fitness closely in the lead up to your drafts.
If his body does fail him this pre-season, just take Pittonet instead and send Pitbull gifs to your group chats. The Traders would be proud…
After carrying out the research for this article, I've concluded that the late-round-ruck strategy comes with risk this season. If I was to employ it, I'd consider drafting 2 of these guys so as to hedge your bets, that is, if your league mates don't draft backup rucks before you can get your hands on them (some cowards in my 10 team leagues do this). If you do get stuck with a Preuss/TDK type, I'd consider a handcuffing with Pitbull/Flynn.
Tell me what you think of the late-round-ruck tactic this season! I'm not sure where it sits with me as I type this. Leave a comment or catch me on Twitter: @lionelhutz4prez